Which is Good Bathmate Hydromax X30 or X40? Read this page to find more about it.
The Bathmate extenders are the best male extending devices you can use. Bathmate offers a wide series of Hydromax products. As a user, you need to be very careful with the kind of product you choose to use. There are different products meant for different sizes. Here, we will look at the Hydromax X30 and X40. The comparison and review of both will help you determine which among the two is best for you.
>> FOLLOW THIS TO GET YOUR HYDRO PUMP NOW! <<
Hydromax X30
The bathmate x30 series is a popular one that comes with 35% more suction power than its predecessor. It boasts of a new design that is leak-proof and comes in a rotatable body. Much of it will be discussed in the comparison chart.
Hydromax X40
It is 15% larger than the X30 meaning it can hold more water. Bathmate x40 also has an impressive suction power just like the X30. It is among the largest hydro pumps in the market. We will discuss detailed specifications of this device in the comparison chart below.
Bathmate Hydromax X30 vs X40 Comparison
This comparison chart of Bathmate x30 and x40 will include the size differences, dimensions; minimum & maximum size each supports, and the price.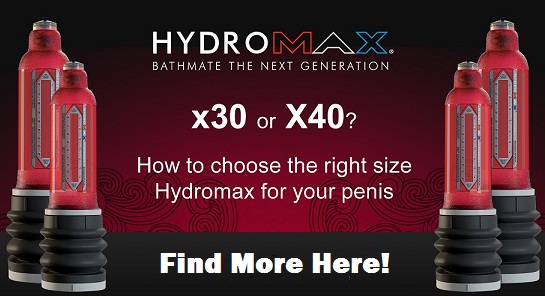 Size Differences
In looking at the size as a comparison factor, we will highlight the recommended sizes for each device. These size differences will also indicate the maximum fit.
Hydromax X30 is ideal for the following sizes:
Men with erection below 7.08"
Girth of 5.69" and below
Width of 1.81" and below
Max Fit:
Maximum erection of up to 9.75"
Maximum girth of 7.07
Maximum width of 2.25
Hydromax X40 is ideal for the following sizes
Men with erection below 8.46"
Girth of 6.91" and below
Width of 2.20" and below
Max Fit
Maximum erection length of up to 11"
Maximum girth of up to 7.70"
Maximum width of 2.45"
From the comparison above, it is clear that the two series are for different penis sizes. Therefore, you need to check whether your penis size is ideal for x30 or the x40.
Dimensions
The dimensions are as follows:
X30 dimensions:
Internal length: 9.75"(24.8cm)
Internal diameter and circumference: 2.25" dia./7.06" circ.
Weight: 10.3oz (292g)
X40 dimensions:
Internal length: 11.5" (29.2cm)
Internal diameter and circumference: 2.45" dia./7.69"cir.
Weight: 15.3oz (436g)
Price
The price of these devices is also another distinguishing factor.
The Hydromax X30 retails at $159 while the X40 retails at $199.
However, the prices may vary depending on whether there is a discount or not.
Where to Buy Bathmate x30 and x40?
Given that the Bathmate Hydromax products are the best, you should make an effort of buying them at the best place to get genuine products. The best place to buy is from the official site of the manufacturer. There are a few reasons why you need to buy hydromax from the official site. Here are the reasons
You will enjoy great prices since the manufacturer offers the best price in the market. Furthermore, there are discounts that you can take advantage of
There is guarantee that you will buy a genuine product if you get it from the official site
There is a money-back guarantee when you buy bathmate x30 from the official site.
Just get to the website and choose your desired device based on your penis size and then click on BUY NOW.
Hope my comparison of Bathmate Hydromax X30 vs X40 help you! Please share your own review here.
Originally posted 2017-11-06 12:46:51.
Affiliate Disclosure: This is an advertisement and its authors may receive compensation. The statements and opinions expressed herein are not made by and should not be attributed to DX Products. The statements and opinions expressed herein are those of the authors alone.